Alabama has been electing only Republicans for years, regardless of that candidates credentials, just as long as he or she is a republican. The straight ticket voters, unwittingly, are responsible for electing corrupt officials who simply rode the straight ticket into office.
The Ripp Report is Independent and we vote for the candidate. We have supported libertarian, Independent, Republican and Democrat.
A casual observer should be able to understand that Governor Kay Ivey is being "handled" and her refusal to even debate her opposition shows a lack of confidence and leadership. If elected you can be assured that we will have four more years of limbo government.
The great gubernatorial cyber debate – Lagniappe Mobile
The great gubernatorial cyber debate – Lagniappe Mobile
I'm a firm believer that people who want to hold public office should not only be willing to, but excited to step out on a stage in front of all their would-be constituents and explain exactly what it is they hope to accomplish as dog catcher, city councilor or Alabama governor. But as we move …
Source: lagniappemobile.com/the-great-gubernatorial-cyber-debate/
Submitted article:Tuscaloosa Has a Warrior—Walt Maddox, and He's Ready to Win it All for Alabama
In Tuscaloosa, Alabama, there is a rich and storied history. Great things have happened. For the University of Alabama, 17 national championships in football is the lofty standard, if not the pinnacle. Forged on the college gridiron is a special blend of success, born of teamwork, and a fierce commitment to excellence set in motion by the game's greatest coach, Paul "Bear" Bryant, a simple but talented man who knew football—and human beings, better than anyone. But, it wasn't always like that.
In the winter of 1967, before there was a black athlete in any sport at Alabama, and only a handful in the SEC, Dock Rone mustered the courage to visit Coach Bryant in his office and announced his intention to join the football team as a walk-on.
Rone said Bryant replied, "You'd have to be proud of yourself for making this step. It takes a lot of courage to do what you're doing."
And with that, Alabama Football was forever changed, as the Bear's mentality toward recruiting black athletes was altered. Rhone and four other black walk-on players participated in spring practice in 1967. None made the fall roster, but it was clear Coach Bryant's mind was thereafter open to the formerly taboo subject. He was ready for change.
Patrick Fain Dye worked on Coach Bryant's Alabama staff from 1965-73. Dye helped Bryant and the Tide land Wilbur Jackson, the first black football player to sign with the University of Alabama, in 1970.
The State of Alabama and its citizens are in a predicament similar to that of Coach Bryant's in the late 1960's. Decades of corrupt, republican rule have left voters disenfranchised and forlorn. A principled, faithful middle class has been duped—their pride removed and their hopes banished. Repeatedly lied to and beguiled by a bogus leadership revealed and tried as criminals, Alabama republicans are wondering the future of their party, if not their beloved state.
Alabama's current governor is a place holder of the current corrupted republican regime. A party once revered for its stance against corruption, it has become corrupted, the quintessential anathema, and a certain badge of shame for the objective voter hoping for progress.
The Democratic Party represents the future of Alabama. Many republican voters today in Alabama are the grandchildren of grandparents who voted straight ticket Democrat their entire lives until Ronald Reagan. Surely these folks—your ancestors, were not bad people?
Mayor Walt Maddox of Tuscaloosa, like Coach Bryant, is a modern-day warrior. When Tuscaloosa was ravaged by an unprecedented natural disaster, Walt Maddox kept his cool and delivered. He has the education, the experience and the work ethic to get things done like Coach Bryant did.
Coach Bryant was a great leader. He realized that as human beings we are all in this together. Unifying us made the University of Alabama and the State of Alabama stronger. Walt Maddox is the unifying leader of Alabama's next generation.
Alabama voters in November must muster the courage of the Bear to once-and-for-all leave their tainted past behind…and to provide hope for a brighter future for their children.
Name Withheld
Fairhope.
A perfect example of the wrong party vote is Chris Elliott, seeking State Senate Seat 32. Bought and paid for by the machine, Catalyst, and Goat Hill swamp critters. If elected Elliott will do as he is told, by the people who own him.
Don't be blind, know your candidates and make an intelligent decision to vote for the best candidate
Jason Fisher Welcomes U.S. Senator Doug Jones
Jason Fisher Welcomes U.S. Senator Doug Jones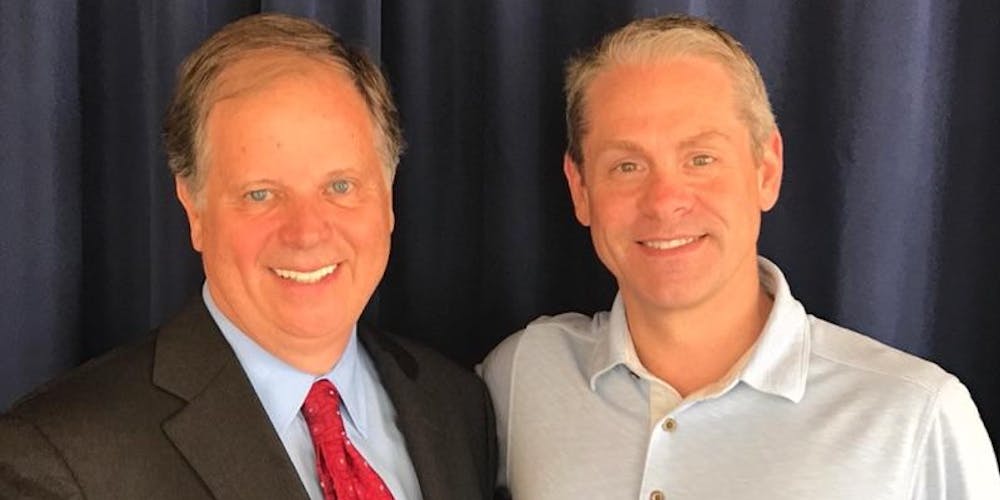 Join us Thursday, August 9 as U.S. Senator Doug Jones returns to Baldwin County for a campaign fundraiser for Jason Fisher, candidate for State Senate District 32. The fundraiser will begin at 6:00 PM at LuLu's in Gulf Shores. A minimum donation of $50 per person is suggested and a cash bar will be available.  Attendees are also encouraged to enjoy dinner on their own at Lulu's following the program. Your donation can be made at the door or through Jason's website.We look forward to spending and evening with you and Senator Jones!
Source: www.eventbrite.com/e/jason-fisher-welcomes-us-senator-doug-jones-tickets-48771546007
Jason Fisher is a far better candidate than Chris Elliott. See ya at LULU's
OPEN YOUR EYES