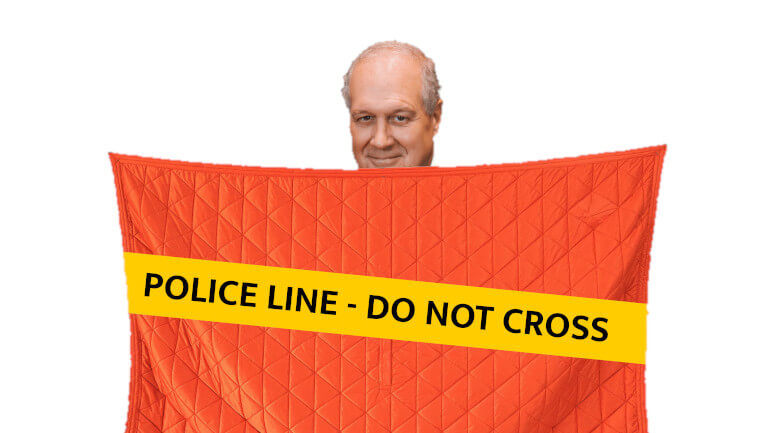 The Ripp Report received a copy of a letter from Mayor Bob Wills to Tamara French, O.J.'s older sister, in reference to Mr. O.J. French who was killed by Bay Minette police, August 20 2021.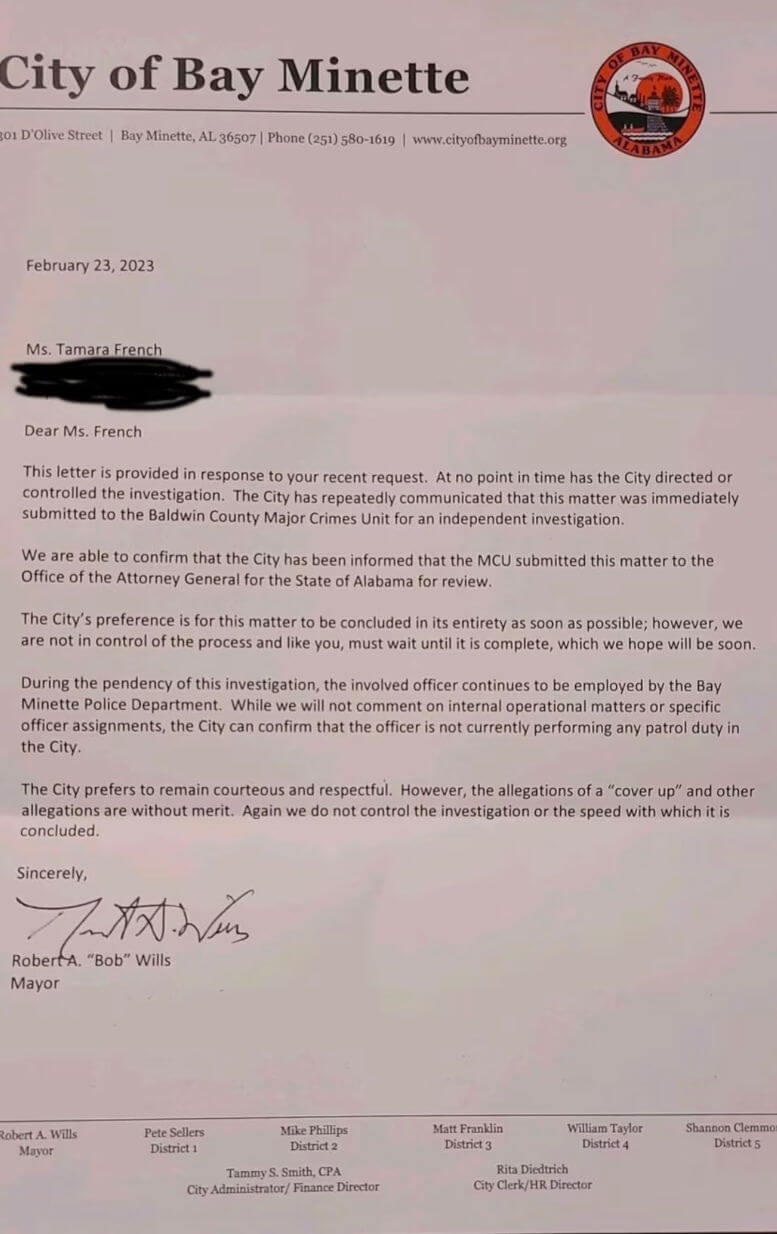 The Mayor's letter makes no mention of the fact that Alabama is the most politically corrupt and racist State in the United States. So why would you not have the expectation of a COVER UP?
Mayor Bob Wills message is that "the allegations of a "cover up" and other allegations are without merit". The letter itself is part of a potential "cover up". Mayor Wills is more interested in his golf game than consoling the citizens of Bay Minette. He has done everything that would make you suspicious of a "cover up". Mayor Wills reputation of questionable self serving deals that he has been involved in, have resulted in ethics complaints and Alabama Bar complaints. Those complaints fell on deaf ears but we all know the primary duty of the Alabama Bar and the Ethics Commission is to "cover up" for corrupt politicians.
"In a court document last week, Alabama Attorney General Steve Marshall accused Albritton of fraud and self-dealing in his oversight of a charitable trust called the Mabel Amos Memorial Fund (MAMF). Marshall's damning words came as part of a motion in a civil suit filed by Amos's relatives, who have been trying to find a way to make their great aunt's fund run as she intended."
Mr. Albritton is the Executive Director of the Ethics Commission. He now has three lawsuits against him, and is still being paid as Executive Director. The Ethics Commission and the Alabama Bar both dismissed complaints against Mr. Albritton. My point is that Mr. Albritton and the Alabama Bar also dismissed Mr. Wills complaints. That is what I call a COVER UP.
According to Wills, Bay Minette officers are also scheduled to attend training on mental health crisis intervention de-escalation techniques from AltaPoine Health. The department will also be attending training to sharpen their "conflict resolution abilities using firearms training systems." This was after the killing of Mr. French.
Rumors is all the public has because Baldwin County Major Crimes Unit, BCMCU, the County Commission and the City of bay Minette, Mayor and Council have all swallowed their tongue. They are solely responsible for the lack of information, misinformation and rumors circulating throughout Baldwin County.
BCMCU consists of Bay Minette Police Chief Al Tolbert, who is the current chairman, Robertsdale Police Chief Brad Kendrick, Sheriff Huey "Hoss" Mack of the Baldwin County Sheriff's Office (BCSO), Gulf Shores Police Chief Edward Delmore, Daphne Police Chief David Carpenter and Foley Police Chief Thurston Bullock. The agency is tasked with reviewing the actions of officers working for its member organizations.
BCMCU has no credibility. They are investigating themselves and Chief Tolbert of Bay Minette is the Chairman? It is prosperous to believe BCMCU could conduct an unbiased investigation of their own members.
"The Baldwin Commission Attorney, Brad Hicks, says he see's no ethics violation with Mayor Bob Wills renting his building, and possibly sharing office space, with the Baldwin County Legislative Delegation. The county attorney is deciding what is ethical and what is not? That is not his job. Brad's job is to be sure it is NOT unethical. His job is to contact Ethics, Attorney General or the legal council for the Speaker of the house and get an official opinion. Instead he just said go to hell with obtaining any opinions."
Sounds like a COVER UP!
"Christmas comes early to Bay Minette Mayor Bob Wills. Ole Bobby is pushing the envelope when it comes to in your face "self Dealing", using his office for personal gain. Mayor Wills has an outstanding ethics complaint involving his office and personal gain. Then there is the Alabama Bar complaint hanging over his head."
"Instead they live up to Alabama's title of being the most political corrupt state in the United States. I must admit when it comes to corruption in Alabama, all elected officials appear to be on board. This new delegation is going to rent offices in Bay Minette from the Mayor of Bay Minette. YES you read that right. If you think that is bad the rent for the first 5 years is $245,000.00. That's just to start. Mayor "GREEDY" Wills sweetened the deal for himself by adding two 5 year lease extensions. The second 5 years .will cost around $283.00.00 and the third 5 year extension for $339.000.00, that totals $867.000.00 in Mayor Wills family bank account, for a building worth far less. It should be noted greedy Bob has an Ethics complaint and a Bar complaint pending. Those complaints will be filed in the corruption file of both agencies, who are equally corrupt."
Mayor Bob Wills is the bit dog barking first. His mention of a COVER UP seems more like the potential of a COVER UP. I would not believe a damn word out of his mouth. Mayor Wills will be polishing the badges of police on hole nine of the Holly Hills Golf Course this week end.
Mayor Wills is shameless, you should not be suspicious of a COVER UP because the COVER UP is well under way.
My deepest condolences to the French family and friends of O.J.